A strong shipping program is central to ecommerce success. Very few ecommerce companies, however, know how to set one up. This guide will walk you through how to set up shipping on your Shopify store [and more].
It doesn't matter if you have the best user experience and products on your website. Without the right shipping strategy to satisfy customers, you're shooting yourself in the foot.
For example, let's say a customer finds a product they like from your store and adds it to their cart. They find out about your high shipping rates and start hesitating in their purchase. They search the web and look for cheaper alternatives. Next thing you know, they're ditching their cart and going to your competition.
In this complete guide, you'll learn everything about setting up a shipping strategy on Shopify to make sure this never happens. Here's what we'll cover (click any topic to jump ahead):
Let's dive in.
Want more help? Download this checklist
and get shipping in 5 easy steps!
Why You Need a Shipping Strategy
Your shipping strategy is what could make or break your online sales.
Don't believe us? Check out these statistics:
One thing to note is that your shipping strategy will change over time. For example, you might decide to change your shipping carriers, price, unboxing material, etc.
What's important is defining a game plan now and continuing to adjust as you grow.
Understanding the Different Default Shipping Options on Shopify
When you sign up with Shopify, the platform offers three different plans: Basic, Shopify, and Advanced.
Each plan you choose has different options and discounts when it comes to shipping. Depending on your Shopify plan, you might be eligible for reduced shipping rates from these three carriers:
Let's take a look at how each Shopify plan differs from each other:
| | | | |
| --- | --- | --- | --- |
|   | Basic Plan | Shopify Plan | Advanced Plan |
| Monthly Price | $29/Mo | $79/Mo | $299/Mo |
| What does the plan consist of? | All the basics for starting a new business | Everything you need for a growing business | Advanced features for scaling your business |
| Shipping Discount | up to 64% | up to 72% | up to 74% |
| Print Shipping Labels | Yes | Yes | Yes |
| USPS Priority Mail Cubic pricing |   | Yes | Yes |
As you can see from the table above, the higher you upgrade, the more discounts you'll get on shipping and labels. While each plan offers the possibility to print shipping labels, the basic plan doesn't come with USPS Priority Mail Cubic pricing.
While Shopify offers reasonable rates, you'll still gain more value if you use a shipping app. With Essential Hub, we connect all of your eCommerce operations so you can get the best discounts and save up to 35% on shipping.
Want more help? Download this checklist
Shopify Shipping – How to Set up Zones and Rates
Once you decide which plan is the right fit for your business, it's time to get started on your shipping strategy. The first thing you'll have to do is set up your zones from the Shopify admin.
What Is a Shipping Zone?
On Shopify, a shipping zone is a specific location based on region or countries. It defines where your package is shipping from, and to which destination.
Your shipping zones play a vital role in setting up your rates. Typically, the farther you ship the item, the higher shipping costs are going to be.
Here's how you can define your shipping zone from the Shopify admin:
Step 1: Go to the Shipping Section From Your Admin
From your admin dashboard, click on "Settings" at the bottom left on your screen. Click on "Shipping" to start setting your zones and rates.
Step 2: Click on "Manage Rates"
Once you land on the shipping section, hover to the "General shipping rates" section and click on "manage rates".
Step 3: Scroll Down and Click on "Create Shipping Zones"
On the "manage rates" section, You'll get to see all of the products that you added to your store. Scroll down underneath to get access to your shipping zones.
In the example above, we already defined some specific rules for shipping in the US. We're offering shipping for product orders of $25 and up.
To create a new shipping zone, click on "create shipping zones".
Step 4: Name Your Shipping Zone and Add Countries
In the textbox, add a name to your shipping zone to differentiate it from others.
When you create your zone, you'll be able to search and select countries where you want to ship. Once you choose them, click done.
Step 5: Add Any Rates You Want for the Shipping Zone
Once you create your shipping zone, you can start adding rates that apply for it. You can either set up your own prices and let the shipping carrier do it for you.
Should You Offer Free Shipping?
As you set up your shipping zones and rates, you may ask yourself — should I offer free shipping or not?
You already know that customers love it. 91% of online customers will leave an eCommerce store if they don't offer free shipping.
As practical as it may be for customers, free shipping might not be appropriate for your business. There are many different factors to consider before you decide to offer free shipping.
Here are a couple of things to consider before you make the jump and offer free shipping on your store:
You've Calculated Your Profit Margins
First, you'll have to do some math to determine if free shipping is right for your business.
Keep in mind that you're the one who's going to have to cover the shipping costs. That often means that you'll have to increase the price of your product to cover costs.
You also have to be careful when raising the price of your item — you want the price to cover for shipping and marketing costs, but not high enough that it scares away customers from buying from you.
A good strategy on Shopify is to offer free shipping when a specific amount of items are ordered, which we'll get into later.
Your Supplier Offers Free Shipping
Whether or not you should offer free shipping also depends on your supplier.
If the supplier you choose offers free shipping, then it's ideal to offer free shipping to your customers as well. In this case, it won't be fair to charge them for shipping costs.
If they don't offer free shipping, however, it's up to you to decide whether you want to cover the shipping costs and make you customers pay for them.
The Competition Is Offering Free Shipping
If competitors in your niche are offering free shipping as part of their strategy, then it's best that you do the same.
You don't want your store to be falling behind everyone. However, even if the competition isn't offering free shipping, it could still be a way to make your business stand out from the crowd.
Online customers value free shipping during their purchase. If they explore their options and see that you're the only one who offers free shipping, they're most likely to pick you.
Your Customers' Location
Ask yourself: where are your customers located? Are you only shipping to the United States, or do you have customers overseas as well?
The customer's location has a big influence on your shipping costs. It's why it might be better for your store to offer free shipping only to specific locations.
How to Offer Free Shipping on Shopify
Once you've considered all of these things and decided if your business is going to offer free shipping, it's time to set it up on Shopify.
There are various ways you can set up your free shipping options from the Shopify admin. You can offer free shipping based on the following criteria:
Product Cost
Product weight
Let's take a look at the different steps and ways you can set up your free shipping:
Step 1: Go to the Shipping Section From Your Admin
Similarly to setting your shipping zones, click on "Settings" at the bottom left of the Shopify admin. After that, click on
"shipping".
Step 2: Click on "Manage Rates"
Once you land on the page for "Manage Rates", you want to scroll down and click the specific zone where you want to offer free shipping.
Step 3: Click on "Add Rate"
To set up your free shipping, click on "add rate". It's where you'll be able to create specific conditions for free shipping to apply.
Step 4: Type in Free Shipping and Click on "Add Conditions"
When you click on "add rate", you'll receive this popup on your Shopify admin:
In the text box, type in "Free Shipping" to differentiate the rate from others. Next, click on the "add conditions" button to define the conditions of your free shipping.
Step 5: Offer Free Shipping Based on Product Weight or Order Price
When you click on "add conditions", Shopify offers you two choices: either provide free shipping based on weight or product price.
If you want to offer free shipping based on order price, check the "Based on order price" box. You'll be able to provide a minimum order amount for customers to qualify for free shipping.
However, if you want to offer free shipping based on item weight, just check the "Based on item weight" box. Here's what will pop up on your Shopify admin:
From there, just type in the minimum item weight, and you're good to go.
Choosing the Right Kind of Packaging for Your Orders
Packing is one of the biggest factors of a successful shipping strategy. You don't want to make the mistake of spending more than you have to on packaging or choose the wrong material to transport your product.
Here's how your store can select the right packaging to fulfill your orders:
Determine Your Packaging Budget
First things first, you'll need to assess your current budget for packaging.
How much money you're willing to invest is what determines the kind of packaging material you'll use. For example, a popular option among brands is corrugated cardboard, which ranges around $.075 $0.95.
It's also possible to get free packaging from Shopify's three main carriers: DHL Express, UPS, and USPS. You can order your free shipping supplies online or pick them up. Check out free shipping supplies from the USPS here.
Pick the Appropriate Packaging Weight and Material
Since the cost of shipping relies on the size and weight of your products, you want the packaging to be light. Your box should be big enough to transport your product, but not heavy to the point it inflates your shipping costs.
For the best delivery, your order must be protected with the right material. Here are examples of different types of packaging material you can choose from:
Paper and Cardboard
Cardboard is one of the best packaging materials for shipping. It's low-cost, durable, and is easy to customize to reflect the look and feel of your brand. It's particularly useful when it comes to shipping heavy products.
Poly Mailer
Poly mailers are lightweight and adjust to different product weights. They're ideal if you're shipping products that don't need much cushioning, such as socks or shirts.
Plastic
What makes plastic practical for shipping is that it's lightweight and flexible. As a result, you'll be able to ship more items with less packaging material.
Airbags
Airbags are handy when it comes to filling up empty spaces in your packaging box. It's something you want to consider if you sell items with sharp edges. They also act as cushioning for fragile objects.
Glass and Jars
Glass looks great aesthetically, and its transparent material makes your product visible. The obvious disadvantage, of course, is that it's pretty fragile and can break during transportation.
To pick the right packaging for your product, find and assemble different materials. From there, select the best fit for the product you plan to ship. While the outside might be plain, you can still create an incredible unboxing experience with a few simple additions inside the packaging.
Make Sure the Packaging Gets From Point A to Point B
It doesn't matter how fancy your packaging looks. If your packaging can't travel without being damaged, then it's going to be useless.
It all goes back to picking the right material for packaging. If your packaging material isn't strong enough, customers will end up receiving broken or damaged products.
It's going to cost you less to invest in adequate packaging design then having to replace damaged products.
Tactics You Can Use to Boost Your Shipping Strategy
As you can see from the above, Shopify makes it easy to set up and manage your shipping. If you want the best results, however, you also need a little bit of strategy.
Use Third-Party Shipping Software
If you're handling one or two orders a day, then you won't mind using the Shopify platform to print shipping labels. Once your volume rises, however, you'll want to use a software program to help. An effective shipping software provides better rates, automation (always selecting the best price for the desired service level), and the ability to print labels either all at once or one at a time.
Essential Hub integrates with different software solutions, so we can provide all of our clients with the system that works best for what they need. If you have any questions about software, please reach out using the contact form at the end of this post.
Offer Free Shipping Without Hurting Your Profits
As mentioned earlier, free shipping is an effective way to capture the attention of customers and stand out from competitors. It's a marketing tactic that can skyrocket your sales and continually drive new customers.
There's a catch, however, remember that you need to think about how free shipping could potentially affect your profit margin. While free shipping can boost sales, you'll have to cover all shipping costs as well.
One way to effectively do this is to offer free shipping when customers pay a certain amount on your store. It could help you squeeze in some cash to pay for shipping.
Let's say, for example, that your average order cost is $22. To invite customers to pay more on your store without feeling like they're being tricked into buying more, you can offer free shipping for orders above $25.
Alternatively, you can offer free shipping on any order that includes a certain product. You can choose those that you know are higher margin and can cover the cost of free shipping.
Another option is to offer a membership program for customers that seek free shipping. Customers are charged a yearly or monthly fee in exchange for free shipping on items.
It's all about testing what works and making changes from there.
Make Your Order Fulfillment and Return Policies Clear
Your store needs a concise order policy that sets clear expectations between you and your customer. Setting clear expectations is a simple tip when getting started in shipping.
Online shoppers want access to all relevant information about shipping. They need to know where you ship to and when they can expect the item to arrive.
One thing that matters to them, in particular, is your shipping cost.
For example, if part of your strategy is to offer free shipping, you need to mention this the second visitors land on your home page. Doing so could completely transform your conversions.
When announcing free shipping on your website theme, just make sure that you make it work in the Shopify backend by setting it as a rule. This can be done by making an announcement under your theme settings.
If you're delivering overseas, customers need to know exactly how much they'll pay to cover shipping. Nobody likes bad surprises.
Here are some questions that your shipping policy should cover:
Which countries do you ship to, and which do you not?
What shipping method do you use?
Do customers get access to shipping tracking information?
Can customers pick up your item at a physical location?
What is the procedure and deadline for refunds?
Charge by Flat Rate
Flat rate shipping consists of offering a single rate for shipping an item, no matter the weight or size.
It means that the value or size of products don't get taken into account. For many eCommerce brands, this simplifies the whole shipping process and encourages buyers to spend more.
For example, for each order, you could offer a flat rate of $5.
Setting up a flat rate is a good strategy if you're starting out and don't know how much your shipping costs will be. However, you can still offer different rates based on how fast the customer wants to receive the item.
For example, if customers really want to get your product in two days, you can set up a special rate for two-day shipping on Shopify. They'll receive the item faster, expecting that they'll have to pay a higher flat rate.
Get Insurance for High-Value or Fragile Items
If you're selling an expensive or fragile item, you want to make sure you get insurance to protect it in case issues arise.
Insurance comes in handy if your product gets lost, stolen, or broken during shipping. When something goes wrong, you'll need to prove the item's value, and the insurer will pay you back the full amount.
While insurance is useful, keep in mind that you might have to raise your shipping rates to cover it. Logistical services such as USPS, UPS, and DHL only offer free insurance for items up to $100.
Alternatively, there are some really great services out there like Route, an app we will review below. They let the customer add insurance at checkout and manage any issues that arise with lost, stolen, or damaged packages.
Actively Engage With Customers During Ship"
ing With Email Marketing
Once the item gets shipped out it's a good time to engage with customers and improve their experience with your brand.
A good tactic is to send email updates to your customers once the item ships. You can also feature sales and promotions to other products that could interest them as well.
Check out this perfect example from The Dollar Shave Club. Each time a customer buys from their store they receive an order confirmation email with the shipping date and items they can buy before the product ships:
Offer Same-Day Delivery
Offering same-day delivery can boost your sales and make you stand out from other stores. 61% of customers are willing to pay a few extra bucks to get their products shipped the same day.
Same day delivery is a great way to boost customer satisfaction and brand loyalty. Best Buy for example has rolled same-day delivery since 2015:
To take advantage of same-day delivery customers must place an order with Best Buy Before 3 p.m. local time. It's available 7 days a week and shipping costs depend on the product.
When offering same day delivery you need to measure how it's impacting your sales. If more transactions are driven thanks to it and it's enough to pay for shipping then it's a good strategy.
To setup same-day delivery on Shopify take advantage of their same-day app – you can find it on the app store. In order to setup local delivery you'll need to turn on one of your locations as being available for it. You can do this through the Admin panel settings Shipping and Delivery button Local Delivery section (click manage next to a location).
Create An Incredible Unboxing Experience
Your goal as an online store should always be to stand out from the crowd. One excellent way you can do this is ensuring customers remember opening your packages every time.
An amazing unboxing experience makes your business memorable and leaves customers hungry for more. As a result you'll create a loyal customer base that will repeatedly come back to your site.
Here are some ideas of how you can do this:
Make your packaging material branded or unique. Whatever you're using as filler to protect the contents can be colorful and wow your customer.
Provide a custom thank you. A simple note with the customer's name even hand-written and signed goes a long way to improving customer retention.
Give a free sample. Do you have other products that make sense to give away? These can act like a simple gift that also shows off your additional products.
Include discount codes or special offers. Give them a reason to visit your website again!
Add branded stickers inside and out.
Focus on creating epic packaging like this from

nuts.com
The best part is that you don't have to spend a ton of money creating custom packages for all the different sizes you ship. With stickers on the outside and cool stuff inside you can make any package stand out!
Useful Apps That Will Up Your Shipping on Shopify
Before we conclude there are many apps you can use on Shopify that make the shipping process so much easier for you and your customers.
Here are the best apps you can integrate on your Shopify store to better manage shipping at each stage of the product delivery:
1. Free Shipping Bar
Free Shipping Bar is a tool that displays your free shipping offer in a bar on your website that you can easily customize. Its goal is to encourage customers to add to their cart and buy more.
As customers add more to their cart Free Shipping Bar will show them progressive messages on how much they have left before they get free shipping.
You can congratulate customers once they have landed on a free shipping offer and measure the results of each bar to see which free shipping goals create more sales.
As a bonus its currency detection features makes it easy to auto-detect the local currencies of visitors. The platform then converts the free shipping amount with real-time exchange rates.
Pricing:
Basic Plan: Free with limited options
Premium Plan: $9.99 per month — gain access to unlimited active bars Performance tracking Auto currency conversion and more
2. Parcelify
Parcelify makes it simple to create custom rates for your Shopify store.
With Parcelify you control the shipping pricing and options that customers see during checkout. Customers will be able to get live accurate rates of what they're actually paying when it comes to shipping.
Parcefily also comes with local delivery and in-store pickup. With cheaper options to receive their product you'll satisfy customers and drive more repeat purchases.
Pricing:
Basic Plan: $12.99 per month. Parcelify comes with a free unlimited 14 day trial.
3. AfterShip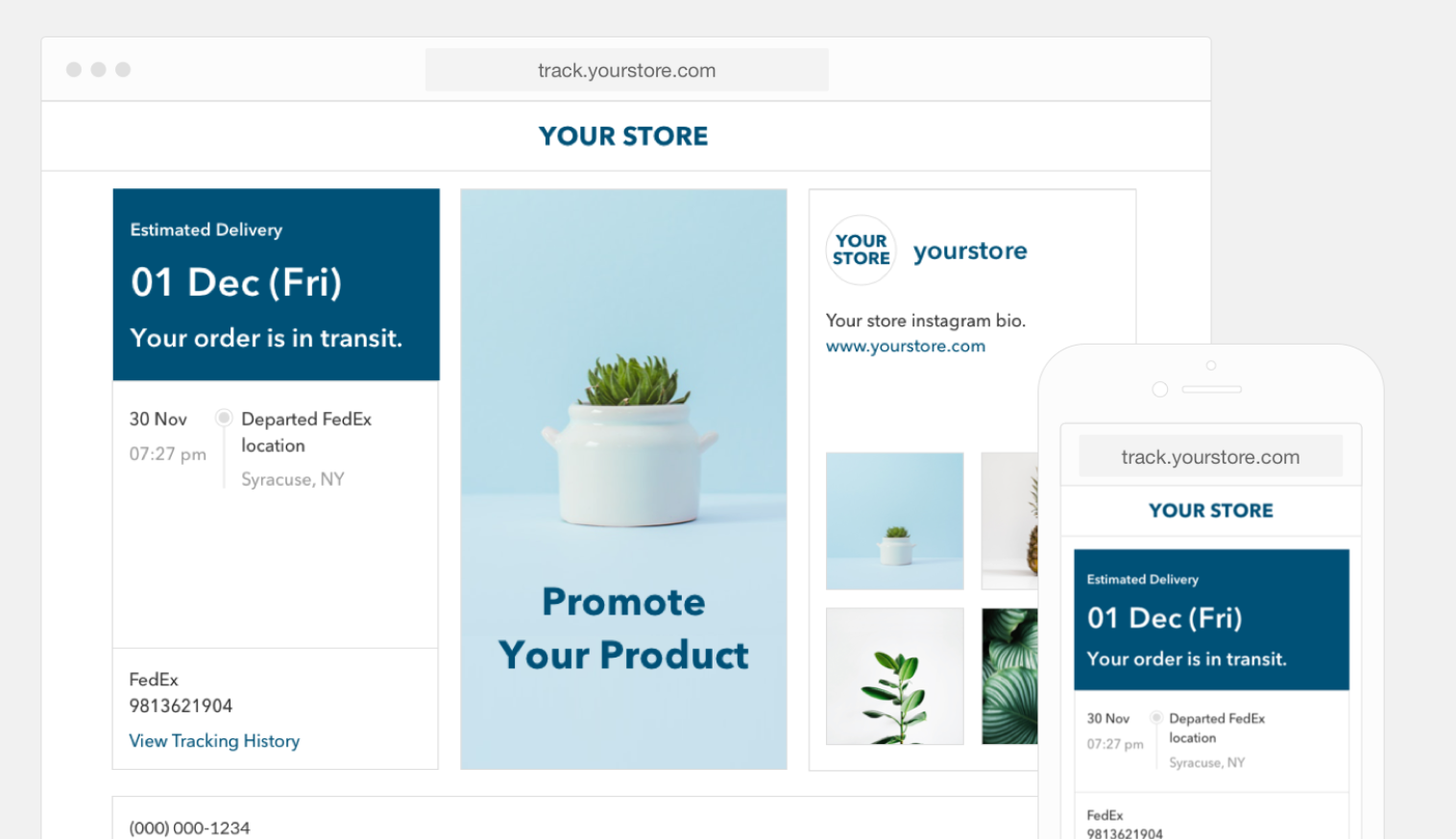 Tracking and managing each customer shipment can be a time-consuming headache. Aftership cuts the work in half by tracking all shipments across 600+ carriers in one place.
AfterShip is currently being used by more than 30 000 Shopify stores worldwide. You'll be able to keep customers updated on the placement of their orders and when they can expect delivery.
As a result your store will see a drastic decrease in customer inquiries and complaints.
Pricing:
Free Plan: Free for 50 monthly trackings with no extra charge
Essential Plan: $9 per month for 100 monthly trackings with $0.08 per extra tracking
Growth Plan: $29 per month for 500 monthly trackings with $0.08 per extra tracking
Pro Plan: $99 per month for 2000 monthly trackings with $0.08 per extra tracking
Advanced Plan: $199 per month for 5000 monthly trackings with $0.08 per extra tracking
4. Tracktor
The modern customer has higher expectations than before. One of those expectations is expedited shipping and being able to track down exactly when their item arrives.
That's where Tracktor comes in.
Tracktor makes it easy for customers and store owners to track down the delivery of a shipped item. The platform integrates with hundreds of carriers across the globe so you track exactly where the package is going.
The best part? You can do all of this from a single app. Customers won't have to come to you and ask "where's my order?" anymore. As a result you'll boost your customer satisfaction and reduce support costs.
Pricing:
Basic: $5.99 per month
Professional: $14.99 per month with custom branding
Premium: $44.99 per month with custom branding and custom order statuses
Enterprise: $119.99 per month with custom branding onboarding services and more feature
5. Route – Shipping Insurance
No one can predict what can happen to your product during shipping which is why getting insurance for your products is so important.
Route is a tool that offers insurance on any item that gets lost broken or stolen during delivery. Customers gain peace of mind knowing that their purchases are guaranteed and you get to keep more of your revenue.
Since Route covers the cost of refunds you won't be losing any money. The app is also 100% free for merchants and only takes a couple of minutes to set up on your store.
Pricing:
6. Aftership Returns Center
As frustrating as custom returns can be there's software you can use to handle returns more efficiently. Aftership Returns Center uses automation to track and manage your returns like it's child's play.
When you integrate Aftership to your online store you'll be able to:
Manage all of your returns in one dashboard
Process refunds easily
Automatically send notifications to users on the status of their returns
Make returns a simple one-click process for buyers
Pricing:
Starter: Free for up to 3 return quotas per month. $0.5 for each extra return.
Essential: $9 per month for up to 20 return quotas per month. $0.5 for each extra return.
Growth: $29 per month for up to 100 return quotas per month. $0.5 for each extra return.
Pro: $99 per month for up to 400 return quotas per month. $0.5 for each extra return.
Advanced: $199 per month for up to 1000 return quotas per month. $0.5 for each extra return.
7. Sales Box
Sales Box offers an interesting way to manage shipping and personalize offers for your customers.
Your store can set up different shipping fees and promotions for individual products or countries. Right under the "add to cart" button customers will have all the information on shipping.
Each sales box is fully customizable and easy to edit. No coding knowledge is necessary — you get instant access to templates that make your offer stand out.
Pricing:
Basic Plan: $19 per month. The app comes with a 7-day free trial with unlimited features.
Next Steps: A Checklist to Get You Started
There you have it! By following our tips and tricks above you should have a solid roadmap of where to go with your shipping strategy. It might require some testing but soon enough you'll be able to blow customers away with your amazing service and delivery. Download our checklist and get started today!